Dispensing Solution is an important part in End-to-end Secure Document Management System, which is mainly responsible for sorting and dispensing. This innovative solution was developed for maximize work-flow optimization and user satisfaction with effective automation and high quality.
The solution can be used for different kiosks, such as Card Dispensing Kiosk, Passport Dispensing Kiosk and Card & Passport All-in-one Kiosk. The system can automatically monitor the working status of each kiosk and its related components. Based on dynamic monitoring, the system can alarm for abnormal performance, low-level consumables and other abnormalities.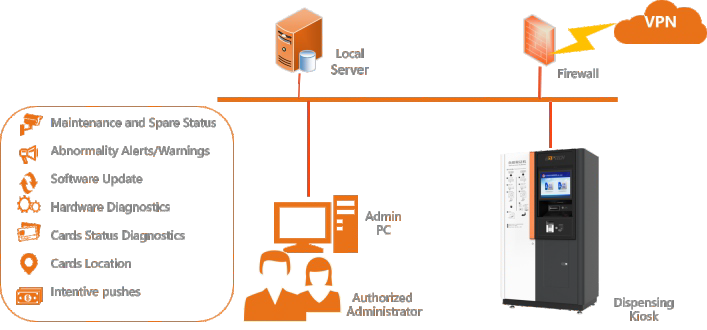 Through bi-directional communication, all status of each kiosk can be updated timely, such as the quantity, frequency and document type issued. In addition, the front-end program can be upgraded through remote control, making it easier to manage all kiosks deployed in different application centers.
EMPTECH's highly automated and reliable dispensing and instant issuance technologies can be integrated into different security document management system, providing secure and trusted security document dispensing, renewal replacement and issuance services for government institutions around the world to better serve their citizens.